Sunrise Gili Air
est. 1992 - Resort - Beach Club - Bar
Welcome to "Gili Air". In Indonesian this means: The "Little Island of Water". Gili Air is a pristine jewel set in the Bali Sea, situated in one of the most picturesque locations on Earth. To the East, the majestic crater rim of Lombok's Mount Rinjani, provides a picturesque backdrop to a stunning sunrise. To the West, the sun sinks behind the perfect cone of Bali's Mt Agung. As it releases all the colours of the rainbow.
Sunrise Resort is situated on Gili Air's East Beach. We have the best location - fine, white coral sand gives way to breathtaking snorkeling directly off-shore, accessible at both high and low tides which is unique on Gili Air. Within 30 metres of the beach, lies a reef teaming with colourful fish and turtles in crystal clear water. Perfect for swimming, snorkeling or diving and always at idyllic temperatures (25-32°C).
Our Reception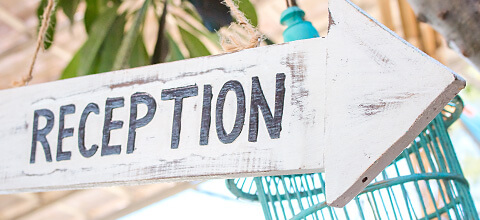 Open all day, our reception is there for you to make your stay as happy as possible.
Your Front Desk Team...

Hotel Overview
30 Guest Rooms
Onsite Restaurant
Adult and Kids Pools
Beach Bar
Sundeck
Large tropical garden
Free WiFi
Front Desk 7am - 11pm
Airport pick up/drop off
Kayak rental
Gerrards Cross
"most amazing oasis of tranquility i've ever experienced"
These places,are incredible,there seem's to be unfavourable reviews&thats because I can only guess is that ,tourists want to keep there tourists away,this is actually heavenly,how it can be faulted I do NOT know.
Deebee
"VERY RELAXING PLACE WITH NO CARS OR MOTORBIKES, JUST HORSE AND CARTS"
This hotel was in a great location, with a really good restaurant. The pool was clean and convenient to the rooms. we had three families travelling together so we got villas 17/18 and 19 which was perfect. The air conditioning was a great escape from the heat. The island itself can be walked around in one hour and the horse and carts are a great novelty. I didn't think id like seeing the ponies treated that way, but they are treated very very well and are all really healthy, most tourists walk anyway, the horses are used for transporting goods for the locals. Food on offer on the island is amazing too.
Ole
"beautiful and relaxed"
Everything is just perfect here. Good and friendsly atmosphere. Beautiful big garden with nice pool. We stayed in a de luxe Bungalow , Indonesian Style, with bedroom upstairs and big living area downstairs. Everything was tasteful and clean. Semi - outdoor shower was really nice. Great service, good food, beach area directly to coral reef. The reef is not in greatest shape anywhere on Gili but there are lots of fish and we saw sea turtles almost every day.
Stayed July 2016, traveled with family.
Joan
"Awesome Stayed & Great Memories in Sunrise Resort"
Great location in the central of Gili Air, 2 mins walking distance after alighted from boat. Super like the resort design with warm colors (white & tiffany blue), it made the whole entire resort looks warm and clean. We were staying at Deluxe category with garden view, feeling relaxed by laying on the sofa bed and hammock. All resort staffs are friendly and helpful, the restaurant is serving delicious food. we went to try out others F&B outlet in the island, and still prefer to dine in at Sunrise restaurant which serve seafood, Western and local delicacies. Had our lunch in daily and gonna miss it till our next visit. Must wake up before 6am and stay tuned on the sunrise view by sitting infront of the resort!
Stayed July 2016, traveled with friends